Greater Good Points

who we are...

Greater Good Points is focused on Equine Bodywork which includes Masterson Method® - Integrated Equine Performance Bodywork, Tucker BioKinetics Body Checkups and Tucker BioKinetic Alignment, Acupressure, Energy, Red Light, Cold Laser, Equine Massage and Essential Oils. We are affiliated with Greater Good Ranch, LLC.
First session. Mules are thinkers, they need time so take the time it takes, allow them to feel and focus on their body, and release tension. Why does light touch work so well? The Dermis, the layer below the Epidermis, contains two common types of nerve receptor cells. Thermo receptors respond to heat and cold while Mechano receptors respond to light pressure. These points are held gently in specific sequences to help the body achieve and maintain optimum form and function. Light touch also talks to the nerves. As we are aware, the discomfort problem we see/feel is not the preliminary problem, it typically is the compensation. By allowing the mule, horse, dog, person to relax muscle groups, we release the tightness/brace/tension, AKA 'coat of armor'. This allows the blood to flow, muscles to oxygenate and body to realign itself. This affects the mind, emotions and physical state of being, AKA our health.
THE MASTERSON METHOD®
The Masterson Method® is an integrated, multi-modality method of equine massage and bodywork that allows the horse to release deep, accumulated pain and tension in muscles and connective tissue. Through the use of light touch and gentle movement in a relaxed state, and observation of a range of the horse's responses (these visual and palpable responses tell you what the horse's body is feeling), you will open doors to improved health and performance while enhancing communication and relationship with your horse.
• Improved relationship & communication with your horse.
• Make your horse more relaxed and comfortable.
• Enable your horse to overcome limitations and restrictions that stand in the way of reaching his full potential.
HOW THE MASTERSON METHOD® WORKS
By following the horse's responses, you are able to access that part of the horse's nervous system that allows it to release deep levels of tension in the connective tissues of key junctions of the body. These are the junctions that most affect, and are most affected by work and performance.
When these junctions release tension, the muscles around them release tension. You can palpably feel this release, and the horse tells you through his responses when this has happened. It is truly an interactive process that will improve relationship, enhance communication, and maximize performance with your horse.
TUCKER BIOKINETIC CHECKUPS
Tucker BioKinetics Body Checkups are based on the book Where Does My Horse Hurt by Renee Tucker.Tucker BioKinetic Alignment

TUCKER BIOKINETIC ALIGNMENT
Tucker BioKinetic Alignment was developed 20 years ago by Dr Renee Tucker.
About Nancy...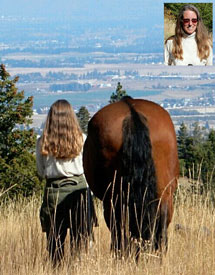 Nancy began her career as a custom furniture maker who also taught woodworking. She transitioned to computer design, database development, website design and teacher of Online Adobe courses in InDesign, Photoshop, Illustrator and Dreamweaver for a community college in Oregon. Counter balancing the technical work with her Equine passion, Nancy pulled the diversity of skills together and created the Greater Good Ranch on her 30 acres in Salish Mountains in Kila, Montana. Currently partnered with 4 horses, 3 dogs a cat and chickens, there are endless possibilities for activities and healing. Computing. teaching plus abundant trail riding, equine clinics, workshops promoting wellness, communication and connection are the main focus of daily life.
Nancy's introduction to horses can be described as a mid-life passion that began in 1999. The desire to find common interest with a friend turned into full blown passion for 'everything horse' after just two riding / equine care lessons. With RFD-TV available she studied every horse program available when not out working with horses. 2003 began the study of acupressure and red light therapy, soon followed by the Masterson Method® DVD's and Book after seeing Jim's demonstration with Rick Lamb on "the Horse Show". The communication and results with every horse are simply astounding.
After years of intensely studying and applying multiple modalities of ground work, riding, Beyond Horse Massage, equine healing and rehab methods, Nancy earned her CEMP certification through Western Montana School of Equine Massage followed by initiation as a Reiki Master and Acupressure, Tucker Bio Kinetic Certification L1, Horse Muscle Care along with other modalities, but felt the Masterson Methodology was still the key work needed for a solid foundation of understanding and awareness with horses. The MM 5 day course, field work study and certification course sparked the drive for learning and doing way more than ever considered possible. Extended study is now an unending focus…
Nancy has an innate ability to connect and communicate with the horse to determine what the horse needs and will adjust the session accordingly. Nancy's mission is to share and teach awareness, connection, communication and maintenance techniques to all equine enthusiasts to help keep horses safe, sound, happy and healthy. To date Nancy has specialized in Therapy horses, non working horses, and those who have given their all through out their lifetime and are now left with muscle bound restriction and discomfort. The empathy and understanding to peel away layers and layers of issues to rediscover the best the horse can be now and for their future is a huge reward. Knowing what your horse needs for nutrition and fitness and having the awareness of who to call for help is a powerful tool to have on hand for being a proactive owner and for building a support team for our companion's long term welfare.
We hope to see you on the trail, in classes and private sessions.
Nancy Horne